Page 14
EVEN News Blog
---


Vancouver is home to the Acorn's vegan brunch / Facebook / The Acorn

Top 10 Cities for Vegan Travellers
Vegan diets are exploding in popularity around the globe, which makes travelling as a vegan much easier. Elizabeth Warkentin rounds up the places where you'll never have to resort to a soggy sandwich.

For many vegans, travelling and eating out can be a frustrating and isolating experience. But as more chefs and restaurants are catching on to vegan food — even Mr. Vegas, Steve Wynn, introduced plant-based options in his casino restaurants when he made the switch himself — things are changing. Gone are the days of drab Hari Krishna, cafeteria-style establishments, or restaurants removing the ham from a dish. Today's vegan digs are helmed by top chefs, have smart, fashion-forward decor, and many carry impressive bar offerings.

Here are 10 cities that make travelling as a vegan a little less lonely:
Turin
If Mayor Chiara Appendino has her way, Turin, the capital of Piemonte, will be Italy's first official "vegetarian city". It's a bold move for a region that prides itself on typical dishes like carne cruda (minced raw beef) and bollito misto, a stew made from tough cuts of boiled veal, beef and chicken. Mayor Appendino says she wants to safeguard the environment and plans to raise awareness by having schoolchildren learn about healthy eating and animal welfare. With more than 30 restaurants, cafés and shops serving vegan and vegetarian fare, Turin's veggie eateries are on the rise and Turin Tourism has published a list to help vegans navigate the culinary scene.
Berlin
Move over Portland — the new capital of vegan cool is Berlin. With over 50 purely vegan restaurants, cafés and ice cream parlours — and an estimated 80,000 vegan residents — the German capital is swiftly getting a reputation. But the cruelty-free movement here extends beyond food. Ethically minded vegans can also find clothing, beer and wine, and even sex toys without leather or latex, which often contains milk proteins.

Annual August festival Veganes Sommerfest Berlin (which features music, games, athletics and a fashion show) attracts around 60,000 people. Kebabs rule in Germany, of course, but vegans don't have to miss out at Vöner, the first cruelty-free doner kebab house in Berlin. Kopps is deemed one of the best fine-dining vegan restaurants globally. For dessert, Kontor Eismanufaktur dishes out exclusively plant-based ice cream, also dispensing with dyes, aromas, additives, vegetable fats and emulsifiers.
Helsinki
Had enough of talk of pulled pork? Never fear; in Finland you can feast on pulled oats. Nyhtökaura, a meat substitute consisting of Nordic oats and broad beans, might soon become Finland's biggest food export. Yes, really.

While exclusively vegan restaurants are still scarce in Helsinki, vegan-friendly chefs are plentiful and vegetarian restaurants favour plant-based cuisine, including those pulled oats. Helsinki is easy to navigate, thanks to surprising, flavourful spins on Nordic cuisine. Most cafes use oat milks, which make a nice change from soy. Weekly publication Helsinki This Week has a list of recommended vegan and vegan friendly restos.
Tel Aviv
Veganism has been on the rise for some time in Israel, but things came to a head in December 2014 when protesting Israeli soldiers threatened to revolt if the army didn't start giving vegan options on the cafeteria menu. With nearly five per cent of Israelis now eschewing meat, dairy, and eggs, Israel is now per capita the world's biggest vegan nation. With over 400 vegan and vegan friendly establishments, cosmopolitan Tel Aviv has become such a hotspot that even Domino's serves animal-free pizza, and there's the first vegan — and kosher — cooking school in the country, the Vegan Experience. Every September the city hosts Vegan-Fest, one of the world's largest vegan festivals.

Shabby chic Zakaim does consistently good Persian-influenced dishes. At Nanuchka, the world's first purely vegan Georgian restaurant, you'll enjoy a fresh take on meat-heavy Eastern European food. It goes without saying that vegan staple falafel can be found virtually everywhere, but at the Veg Shawarma you can satisfy your shawarma craving secure in the knowledge that you haven't harmed any animals.
Chennai, India
It's estimated that up to 50 per cent of the Indian population is vegetarian, and while veganism is a new concept in the West, a meat-free lifestyle has been ingrained in Indian culture for thousands of years. South Indian cuisine typically makes use of rice, pulses and coconut milk, and vegan and vegetarian dishes in Chennai's restaurants abound. For an Indian fine dining experience, try the Royal Vega at the ITC Grand Chola hotel. According to the hotel's website, the "cuisine is Pan Indian in nature and explores the blend of condiments, vegetables and lentils with a generous dollop of jouissance."
Melbourne
Australia's second city has long been progressive, but in recent years the vegan movement in Melbourne has been barreling across the city like a train that's lost its brakes. Get your pizza fix at stylish Red Sparrow Pizza, indulge your sweet tooth at the new dairy and egg-free vegan dessert bar Girls and Boys, or enjoy a more upscale dining experience at Transformer.
San Francisco
Thanks to its healthy, hippie haven vibe, San Francisco's home to some of the best and most innovative raw, vegetarian and vegan eats in the world. There's nothing quite like vegan Mexican food that's meant to be a meal, not just a side dish. Head to Gracias Madre in the Mission District for a scrumptious, guilt-free Mexican experience. And just because you're vegan, there's no need to sacrifice your love of sushi. Nearby Shizen serves up innovatively delicious veggie rolls, nigiri, and ramen, while for gourmet fine dining, check out the award-winning Millenium across the bridge in Oakland.
Austin, Texas
Texas, no way?! Yes way. Whole Foods started here in the 1970s and the movement's is stronger than. If you love food trucks, be sure to stop by Guac N' Roll, a vegan friendly Tex-Mex food truck. For an Austin twist on Indian grub, head to Gra'j Mahal. For afters there's Sweet Ritual, a vegan ice cream parlour.
Vancouver
The world's third most liveable city — after Melbourne and Vienna — Vancouver has been gaining accolades on the world vegan stage. Satisfy both your palate and your aesthetic sense with The Acorn's award winning, exquisitely plated oeuvres; join the vegetable-forward revolution of two self-proclaimed "plus sized" chefs who quit meat to get healthy at stylish Heirloom Vegetarian; and shop for cruelty free kicks, bags, belt, wallets and even chocolate at Nice Shoes.
London
Better known in recent years for its "snout-to-tail" establishments, London's vegan scene has been blossoming. The US arm of PETA once selected it as the most vegetarian friendly city in the world, not only because of its 100+ vegan, vegetarian and veg-friendly restaurants but also because of the striking variety of meatless ethnic cuisine. London is also home to vegan tattoo parlour Fifth Dimension Tattoo.

Vegan foodies will have plenty to satisfy their discerning taste buds here. Try Manna, a favourite with the Primrose Hill set, whose entirely vegan kitchen is inspired from round-the-world cuisine. Sara Mittersteiner, aka Pomodoro e Basilica, is a vegan Italian foodie who runs a street food market stall every weekend at Boiler House in Brick Lane, as well cooking classes and a vegan supper club from her home. Lovers of "dude food" will rejoice at Deptford veggie and vegan café The Waiting Room, which serves meat-free wings, BBQ ribs, hot dogs and burgers. In January 2017, Temple of Hackney, a fried vegan "chicken" shop owned by a former KFC-employee-turned-vegan, opened in Hackney to massive queues.
Source: The Independent, by Elizabeth Warkentin
EVEN News Blog---EVEN News Blog---EVEN News Blog---EVEN News Blog---EVEN News Blog

ESPN Highlights Vegan Soccer Player, Toni Pressley's Vegan Mushroom Risotto
By Natalie Gingerich Mackenzie, ESPN
Florida State grad Toni Pressley's soccer career took her from coast to coast in the U.S. -- as well as overseas to Russia -- before landing her with the NWSL's Orlando Pride in her home state last year. Despite an exhausting schedule, the self-proclaimed "pretend Food Network star" loves to cook -- and fill her Instagram feed with photos of her creations
One recent theme: Pressley has been following a vegan diet for about four months. She began as an experiment and quickly noticed that she was getting leaner and had more energy on the field.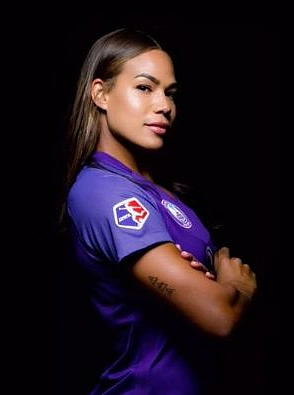 "I loved learning about which substitutions I could make and how to reinvent recipes and food," she said. "There are so many options available that veganism is not as hard as many people think."
She has found that it's easier than she thought to get the muscle-building protein she needs. "I make sure I get my protein with plant-based protein shakes, tofu, meat replacements (I really like pea-based options), and I also take a daily vitamin," she said.
She shared one of her favorite dishes: vegan mushroom risotto.

Day and time: Any day for dinner
Place: My home! I love to cook.
What I'm eating: Vegan mushroom risotto
Whose recipe: Mine
Why I'm eating it: Mushroom risotto is one of my favorite things to eat on this planet!

The recipe:
Ingredients:

2 cups Arborio rice
4 cups assorted mushrooms
1/2 cup diced yellow onion
7-8 cups veggie broth
3 cloves garlic
1 cup vegan Parmesan cheese
1 cup raw cashews, plus enough water to cover them completely in a container
1 tablespoon vegan butter
2 tablespoons olive oil
2 tablespoons chopped chives
Salt and pepper to taste

1. Make cashew cream. Soak cashews in water overnight or for at least 8 hours. Using a high-speed blender or food processor, blend for about 2 minutes to make cream.

2. In a large skillet on medium heat, add vegan butter and olive oil. Add mushroom onions, and sauté for 5 to 7 minutes. Add garlic, and sauté for another 2 to 3 minutes.

3. Add Arborio rice, and stir thoroughly.

4. Add one cup of veggie broth, stirring constantly until the broth is almost all absorbed. Repeat this step for the remaining six to seven cups of broth.

5. Test rice to ensure it is cooked through. If not, cook until tender.

6. Add vegan Parmesan and chives and mix well.

7. Add a half cup to a cup of cashew cream, depending on how creamy you like it. I use a half cup.

8. Add salt and pepper to taste.

Source: ESPN-W
EVEN News Blog---EVEN News Blog---EVEN News Blog---EVEN News Blog---EVEN News Blog

Click >> HERE to Enlarge
7 Ways to Inspire the Next Generation of Vegan Activists
by Joe Loria, Mercy for Animals
It's important that we speak out not only for farmed animals who are exploited right now but also for those who will be in the future. We can do this by inspiring the next generation of vegan activists. Here's how we can start:
Show them undercover footage.
Most high schoolers have no idea how terribly factory farms abuse animals to produce meat, dairy, and eggs. By sharing undercover videos, you can show people the harsh realities farmed animals face every day.
Tell them the truth.
Sure, this means uncomfortable conversations about slaughter and the plight of farmed animals. But because this horror goes on behind closed doors, sharing the truth and having an open, honest dialogue is crucial.
Teach them self-care.
Discovering the extreme cruelty endured by animals at factory farms can sometimes be overwhelming. It's vital that you and others understand the importance of self-care.
Start a campaign with them.
The best way to inspire people is to show them firsthand how they can take action and make change. Launching a campaign to get their schools to offer vegan meals or incorporate Meatless Monday is a great way to do this.

Get them involved.
Attending demonstrations and leafleting events is a great way for them to meet other activists and experience what it's like to be an activist. These events are always fun. Plus, they're a great way to get more involved in the movement.
Teach them how to cook vegan.
For so many people, going vegan completely changes the way they eat. Educate them not only on why veganism is great for their health but also on how to make a few simple vegan meals.
Donate.
Making a donation to Mercy for Animals is certainly a great way to help animals suffering at factory farms and slaughterhouses. Though most young people don't have much expendable income, they can get creative and produce their own fundraisers through our pee-to-peer program.
---
With these helpful tips, we can inspire tomorrow's vegan activists, and together we can end factory farming and create a more compassionate world.
EVEN News Blog---EVEN News Blog---EVEN News Blog---EVEN News Blog---EVEN News Blog

The Vegan Candy Bar We Can't
Put Down
by Elizabeth Burton
A Sunny is crafted by organic edible goods brand, Amy's. Aside from the brightly tropical packaging and unfamiliar name, what sets this particular bar apart from say an Almond Joy? Well fam, it's vegan and gluten-free.
I believe that I've already asserted my intense attachment to all things coconut AND almond — and that being said, those desires nearly pale in comparison to the love that I feel for all-things dark chocolate (and candy in general). So when faced with a bar that's not only filled with toasty coconut and almonds, but also covered in dark chocolate — I was game, but also skeptical. Could a vegan chocolate bar live up to the hype?

Upon opening the packaging, the bars were separated into two sections (much like an Almond Joy or Mounds bar) and had a velvety and dark exterior. The first bite was glorious: smooth with a soft chew and just the right amount of crunch. The coconut was sweet, the almonds tasted toasty, and the chocolate? The chocolate was rich and intensely satisfying — it tasted like your drugstore variety favorite had grown up and gone gourmet.
...You can pick up your own favorite flavor of choice for $2.77 a bar in-store at participating retailers, or just commit by grabbing a whole 12-pack online.
*Hot Tip: Don't start an organic candy bar tasting without preparing yourself to finish it (all of it).
Source: Refinery 29
EVEN News Blog---EVEN News Blog---EVEN News Blog---EVEN News Blog---EVEN News Blog

The Vegan Diet and How to Make it Work
The diet is the main asset to the vegan lifestyle and is appealing to people for different reasons.
"Not only do I believe that it is the healthiest diet for our bodies, it is the healthiest thing for our mind," said sophomore dance major Lily Thongnuam. "Knowing that you aren't causing any torture or suffering to other beings as well as not contributing to the No. 1 industry to create pollution makes me feel like I'm doing something right for the world." >>MORE

EVEN News Blog---EVEN News Blog---EVEN News Blog---EVEN News Blog---EVEN News Blog

Germany launched the most vegan food products last year
Germany is a staunchly green-minded nation with widespread concerns about animal welfare, so reducing meat consumption is a natural extension of those values. How has Germany, long heralded as the land of meat and potatoes, become an unlikely leader in veganism, of all things? >>MORE
EVEN News Blog---EVEN News Blog---EVEN News Blog---EVEN News Blog---EVEN News Blog

This is the diet we're all Googling
No, it's not Paleo.
Gluten-free, dairy-free and sugar-free diets are about as trendy as Gucci loafers and 90s fashion right now (that's to say, very) but the one diet we're all Googling, according to Hitwise's Clean Living report, is the vegan diet, which might not be a surprise if you too swear by soy-based snacks.
Blame the #cleaneating movement or those better-than-the-real-thing dessert recipes that flood our feeds, but cutting out all animal products (that's honey included, FYI) has become a much more popular option (to look into, anyway) than it was in 2014. Like, 217% more popular, according to the data published today.
Research shows that interest in veganism spiked in December 2016 and January 2017, with searches increasing by 28% over this period.
There are a host of reasons why people become vegan — >>MORE
EVEN News Blog---EVEN News Blog---EVEN News Blog---EVEN News Blog---EVEN News Blog

Go Vegan Today: Three Simple,
Delicious Bowl Recipes
by Rip Esselstyn
"We live in a time where we want everything to be easy, short, and streamlined," says Rip Esselstyn, New York Times bestselling author and founder of the Engine 2 Diet. "To me, the bowl is the epitome of that: It's simple, hearty, with minimal cleanup." With his upcoming book, 7-Day Rescue Diet, out December 27, he lays out the equation for optimal bowls that you can customize with your favorite foods. Esselstyn believes the bowl is another entry point to embrace a plant-strong diet for those who find it too daunting or fear plant-based meals won't satiate hunger. We spoke to Esselstyn at the Seed Food and Wine Festival and got him to share his favorite, nutrient-rich combinations for breakfast, lunch, and dinner. All of them serve two. >>MORE
Source: Men's Journal, Jessica Mahler
EVEN News Blog---EVEN News Blog---EVEN News Blog---EVEN News Blog---EVEN News Blog

How (and Why) You Should Become
a Vegan Regular
Find your home away from home and leverage support for plant-based options by frequenting your favorite eateries.
Despite New Year's resolutions to cook at home more often, by this time of the year, many of us have discovered that we don't have the time to roast winter vegetables or simmer a hearty vegan soup. Still, we need to eat, which means our hectic schedules often find us sitting in a booth at our favorite cafés and restaurants. And although there are a few reasons (money, health, you can eat in your pajamas) why home cooking is preferred to dining out, being a restaurant regular comes with its own advantages. >>MORE
EVEN News Blog---EVEN News Blog---EVEN News Blog---EVEN News Blog---EVEN News Blog

Fat-Free Vegan Diet:
Antidote for the Most Unwanted Acne
With around 40-50 million Americans experiencing it, Acne is considered as the universal skin problem.
Many who struggle with this disease may have tried a number of treatments that do not work. And with the recent study finding that some using Anti-pimple Antibiotics may be immune to them, concerns about acne management may rise again.

Twin sisters and famous Youtubers Nina and Randa suggested one formula that worked for them: Fat-Free Vegan diet.

When Nina and Randa reached their teenage years they suffered from cystic acne. After trying countless acne solutions and their leading dermatologist leaving them, they felt their situation is hopeless. Dr. McDougall's suggestions on their diet saved their faces. They were asked to discard all foods with oils and fats such as avocado, peanut butter, and all soy products. Their diet includes brown rice, vegetables, beans, oats and fruit smoothies. For their snacks they eat dates, rice cakes and dried fruits.

John A. McDougall, physician and vegan nutrition expert believes that the occurrence of Acne is highly attributed to what a person eats and consuming nutritious food helps in getting rid of them. "Acne develops when the pores in the skin (sebaceous follicles) become blocked with dead skin (hyperkeratinization); then fatty materials (sebum) accumulate within the blocked pore. This overstuffed pore then becomes infected by bacteria, resulting in inflammation - the pimple. As with all Western diseases, there is a better way - and that is attacking the cause and invoking the cure with a healthy diet," Dr. McDougall stated.

Although some studies suggest that fatty food do not cause break-outs, dermatologists revealed that some fats can stimulate the development of Acne. William Danby, a dermatologist, found by gathering his patients' dietary data, how removing or limiting dairy products in one's diet affects zit break outs. "It became obvious over the years that dairy consumers had greater acne," Danby said.

Some friends felt that Nina and Randa can only eat limited food but both of the girls felt satisfied with the results. After starting their fat-free vegan diet for many days, the twins noticed that their skins are improving. "It was a miracle," Nina stated. Now 22, the girls have Acne-free faces.
Source: Food World News/Jeanell Sumagpao
References:
Dr. McDougall's Health and Medical Center
The McDougall Newsletter
Scientific American
EVEN News Blog---EVEN News Blog---EVEN News Blog---EVEN News Blog---EVEN News Blog

Reader View: Going vegan is being on the right side of history
By James Corcoran
Over the course of my lifetime, I have witnessed many societal changes here in the U.S. — from civil rights, to women's liberation, to the peace movement, Earth Day, smoking bans, gay rights — all are historically significant. Today we are on the verge of another enormous social change. The trend is clear and the momentum is building as educated and caring people, particularly millennials, are beginning to see non-human animals as feeling individuals with their own desires and rights. They are shifting away from seeing them as property and resources for food, clothing, experimentation or entertainment.
As baby boomers learned early on, we don't need a majority of Americans behind a cause to effect change; it occurs at a tipping point well below 50 percent. It actually requires almost single-digit percentage numbers to make change possible throughout the entire country. As cultural anthropologist Margaret Mead famously wrote, "Never doubt that a small group of thoughtful, committed citizens can change the world; indeed, it's the only thing that ever has."
Animal agriculture is wreaking havoc on Earth. With 7 billion-plus humans inhabiting the planet, we are running out of land and resources to produce animal foods for the masses. As Michael Pollan, author of The Omnivore's Dilemma, says in the documentary Cowspiracy, our survival as a species depends on drastically reducing animal food consumption "to about two ounces a week."
Other reasons people are embracing veganism are to feed the world's hungry, preserve peace, conserve natural resources, improve health, achieve sustained weight loss, and to demonstrate love and compassion for all animals.
To illustrate the changes that are occurring, a few interesting way-markers include: the latest president of the American College of Cardiology, Dr. Kim Williams, is vegan; vegan ultra-marathoner, Scott Jurak, smashed the record for supported traverse of the Appalachian Trail; White Castle offers vegan veggie sliders nationwide; Subway has vegan sandwiches available at 1,000 locations (more to come) nationwide; Wendy's is offering a black bean burger; IKEA introduced vegan meatless meatballs at all stores; Ben and Jerry's is making a vegan ice cream line; a California school became the first in the country to go entirely vegan; Jon Stewart and wife Tracey are opening a farm animal sanctuary; life-altering documentaries like Cowspiracy, Forks Over Knives and Earthlings are streaming; U.S. meat consumption is down 10 percent in the last decade; and Stevie Wonder, Kalel Cullen, Bono, Liam Hemsworth and Miley Cyrus have gone vegan, joining dozens of other celebrities.
Social justice movements are tenacious, brazen and most importantly — successful. The number of vegans in the U.S., by one poll, is more than 22 million — relatively small in number but growing exponentially. Many of us baby boomers remember the enormous resistance we got from the "establishment" in the '60s and '70s. Today we are the establishment, and considering the far-reaching implications of our lifestyle choices, we now have to ask ourselves, what side of history do we want to be on?
James Corcoran lives in Santa Fe and is founder and co-organizer of Santa Fe Veg.
Source: The Santa Fe New Mexican
EVEN News Blog---EVEN News Blog---EVEN News Blog---EVEN News Blog---EVEN News Blog

If You Care About Animals,
You're Behind Veganism
by Sande Nosonowitz
We want you to know, and trust that when you do know, you will judge for yourself, that a vegan life is kinder toward the animals, better for your own health and gentler on our fragile ecosystem. Few of us were vegan from birth. >>MORE
EVEN News Blog---EVEN News Blog---EVEN News Blog---EVEN News Blog---EVEN News Blog

Healthy Comfort Food:
Vegan Cauliflower and Potato Curry
This cozy curry—packed with cauliflower, Yukon gold potatoes, tomatoes, garlic, and plenty of spices—is pretty simple to make. The best part is that you can prepare it a day or two in advance, and it only gets better! It makes quite a lot, so you can serve it for a few meals during the week. And it's super versatile: serve it as a side dish, atop a mound of steaming basmati, or just heaped into a bowl on its own or with a side of warm naan or paratha bread. >>MORE
EVEN News Blog---EVEN News Blog---EVEN News Blog---EVEN News Blog---EVEN News Blog

Anyone Can Be Vegan —
Even Cash-Strapped Students
"I figured that with my small kitchenette, equipped with microwave, kettle and toaster, I could somehow make it work."
- Zoe Thompson
Food blogging and Instagram have helped to raise awareness of the benefits of a vegan diet — and many students are embracing this new way of eating.

Zoe is a student studying English literature at the University of Bristol.

The ubiquity of kale chips, quinoa and juice fasts recently has led many to consider veganism as just another diet trend. But more and more people, including students, are recognising the real health and ethical benefits of a plant-based diet. >>MORE
EVEN News Blog---EVEN News Blog---EVEN News Blog---EVEN News Blog---EVEN News Blog