Eugene > EVEN Service Directory
EVEN Service Directory
Veg*ns like to patronize other veg*ns. When we pay for products or services, we feel better knowing our money will more likely buy a head of lettuce or a bunch of grapes than a t-bone steak or a lamb chop. Voting with our dollars is (apparently!) the best way we can get our votes to count. Please patronize these vegans, vegetarians and veg-owned businesses for the fine products, services and food they offer, and sleep better tonight knowing you made the world a little more peaceful.
This directory is a free service provided by EVEN to veg*ns, for veg*ns.
AHIMSA ACRES EDUCATIONAL CENTER
Buddhist meditation (Vipassana/Thich Nhat Hanh tradition), sustainable and simple living, earth-friendly technologies, vegan lifestyle. Classes, retreats, tours, workshops, personal consulting, and lectures.
Website: ahimsaacres.org
E-mail: ahimsaacres@gmail.com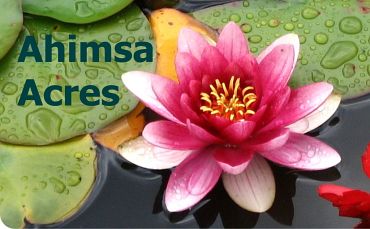 AnimalRX Esssences - Susanna (Claudia) Delman - (415) 794-9480
Our flower essences are liquid messengers of inner health and harmony. They are highly effective, non-toxic herbal preparations that address core issues of companion animal wellness such as fear, stress/trauma, sadness and anxiety.

These remedies are designed to help transform emotions, attitudes or patterns of behavior that hinder your companion's full potential.

Flower essences help bring emotional balance to your animal friend and work towards developing sound health. Sign up for our mailing list! www.animalrxessences.com
AYURVEDA - Pamela Gutierrez - 541-946-3226
Total Harmony Ayurveda - Ayurvedic Classes and Lifestyle Counseling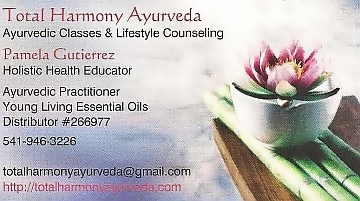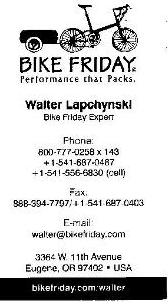 BIKE HELP - Walter Lapchynski - 541-556-6830

I sell custom travel bikes for Bike Friday, whose owners (and most of the staff) are veg*. I have the resources there to work on any bike problem, including framework. I'll also be happy to sell you one of our beautiful bicycles, if you are so inclined.

I'm an ex-messenger and an everyday commuter, my daughter and I often ride to school, and I often enjoy a tandem ride with my wife. So if you have any questions about bicycling, I'd be more than happy to answer them.
Ride on!
bikefridaywalter.wordpress.com
CLOTHING - Karen Messer
Original designs by KD Messer with animal rights/vegan messages, by long-time vegan photographer/artist. Tshirts, caps, aprons, pillows, available at www.zazzle.com/veganactivism
COUNSELING - Priya Thiele, MA, LPC - 541-556-1479
Are you going through a difficult time which is causing you to feel overwhelmed, anxious or depressed? Do you need support dealing with the loss of a loved one or any other major life event or transition? Is your work or relationships suffering and you want to improve how you relate to others? I can help you process and manage difficult emotions, learn coping skills to relieve stress and improve communication. Through our work together you will resolve old and current issues, regain a sense of control, experience a happier calmer state of mind and well-being.
Providing brief or long term individual therapy for adults in a safe non-judgmental environment. My style is supportive and gentle using a person centered holistic approach. Integral Counseling honors and acknowledges the interrelationship of body, mind, spirit, and is tailored to each individual's needs.
Begin the journey toward healing and feeling better visit my website for more information and helpful articles. Call or email today for an individual counseling consultation. I look forward to hearing from you!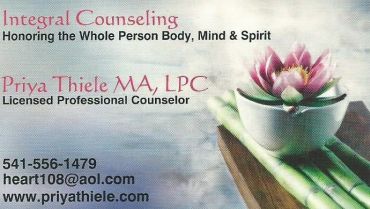 COSMETICS - Vegan Cosmetics - Arbonne - Martha Woodward - 541-912-6950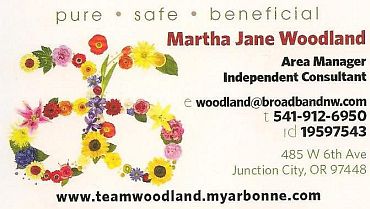 CPR - Oregon CPR - Katrina Purdy - 541-525-9081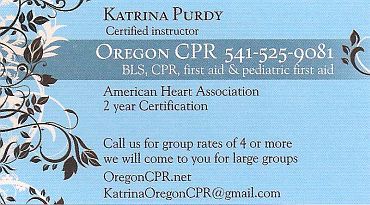 CRAFTS - Angela Egremont, Owner - 541-343-0917
Knitwits - Fancy scarves and purses, handknitted using a wide array of fashion yarns. Custom orders welcome. Popular as gifts. www.knitwitsusa.com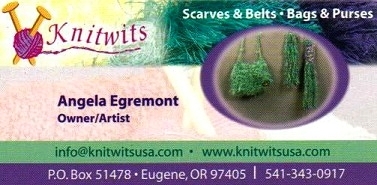 DIETITIAN-NUTRITIONIST — Thomas Bosch PhD RDN LDN
541-844-7489
As a Registered and Licensed Dietitian Nutritionist (RDN & LDN), Thomas guides his patients to achieve their nutrition, health, weight management, and wellness goals through carefully tailored, evidence-based medical nutrition therapy (MNT) emphasizing a plant-based, whole foods approach. Specialties are autoimmune disorders, heart disease, type 1 and 2 diabetes mellitus, intestinal health, and gluten-free diets. Bosch Nutrition LLC - 2455 Fieldcress Rd, Eugene, OR 97403, thomas@boschnutrition.com, www.boschnutrition.com

FB - https://www.facebook.com/BoschNutritionLLC/
Twitter - https://twitter.com/thomasbosch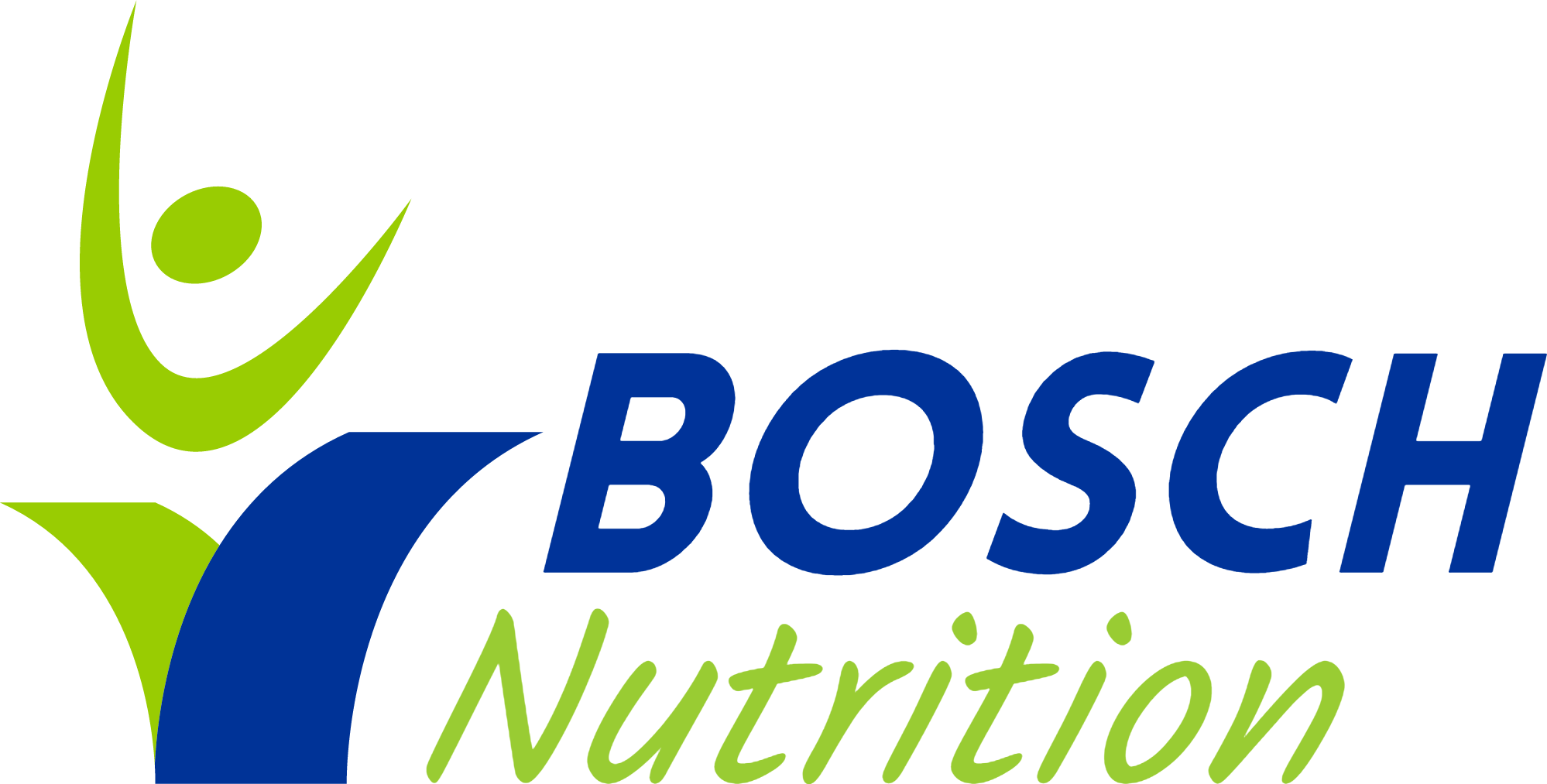 FARMING - Organic - Dick Wadsworth - 541-935-0859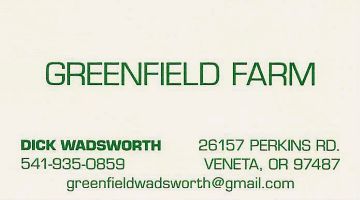 GARDENER - Eric - 541-683-5532
Gardening, yardwork, landscaping. $10/hour.
GRAPHIC DESIGN AND LAYOUT - Kris Maenz -541-554-2585
McKenzie Printers Guild, specializing in affordable layout, design and editing of publications, flyers, brochures, business cards and other materials. mckenzieprintersguild@yahoo.com
HUMANE CREATIONS - Diann Stotler
Handcrafted vegan soaps and handmade vegan neck scarves from Hemp/Cotton and Banana Silk. 10% of sales from the African Black Soap goes to African Wildlife Federation. Also listed are pet mats and other items with 10 % going to Heartland Humane Society of MO. Helping Animals, Earth & Humans, PO Box 240401, Ballwin, MO 63024, www.humanecreations.com
LEGAL SERVICES - Sarah Friedman, Vegan Attorney at Law - Contracts, Copyrights, Trademarks, Social Media, and Business Law Services for Entrepreneurs & Entertainers. Free initial consultation. Flat rate services, no hourly fees! Email nwentlaw@gmail.com
LEGAL SERVICES - James Patrick Geocaris, Attorney at Law - 541-357-9369
Representing people charged with criminal offenses, D.U.I.I., driving while suspended, personal injury, elder law, estate planning and juvenile matters.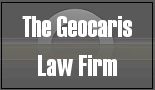 The Geocaris Law Firm, Ltd.
259 E. 5th Av., #300-C, Eugene OR 97401

lawjgeo@gmail.com or visit www.geocarislaw.com
LEGAL SERVICES - Rick Gorman, Attorney at Law - 541-345-1363
Civil Law, Environmental Law, Landlord-Tenant Law, Family Law and Criminal Defense. Vegetarian, but getting closer and closer to veganism. Free initial consultation. Discounts for activists. Call or email rick.gorman@gmail.com
MASSAGE - Shoshanah Thielle, LMT - 541-684-3965
Yoga instructor, private classes and Sundays, 9-10:30 a.m. at Four Winds Yoga Center. Health Care Coach, Reiki Master/Healer.
MEDICAL - Dr. Orestes Gutierrez, D.O., DABFM - 541-632-4060
Board-certified family physician, Dr. Gutierrez has been a hard-core vegetarian since 1998 and is currently following a live food vegan diet! Free 'Meet and Greet' consultation! Gutierrez Holistic Family Medicine, LLC, 3575 Donald St, Suite 110 A & B, Eugene OR 97405
DrGutierrezDO@gmail.com or visit www.drorestesg.com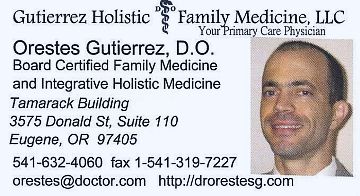 Realistic MURAL PAINTING - Jan Spencer - 541-686-6761
Indoor/outdoor, commercial, residential, movable.
MUSICIAN - Eric - 541-683-5532
Singer/Songwriter/Musician available for any venue. Just ask!
PERMACULTURE - Jan Spencer - 541-686-6761
Residential property redesign. Turn your yard into a permaculture Shangri-La.
PHOTOGRAPHER - Karen Messer
Art & documentary photography for special events by KD Messer. Available in the Eugene/Willamette area.
nwveg@yahoo.com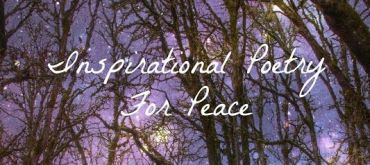 POET - Molly Nicole
Author of Inspirational Poetry for Peace
mollynicole16@clearwire.net
PRINTER - Green Solutions Printing - 541-393-3339
Print Green! Save Green! http://www.printgreen.com or http://www.greensolutionsprinting.com/
*Green Solutions Printing is a member of Co-op America's Green Business Network. *
REAL ESTATE INVESTING - Do Good Investing, LLC - Larry K. Fried - (541) 870-4849 Do Good Investing provides consulting & referral services for investing in out-of-state turnkey properties with excellent positive cash flow. 10% of Earnings Donated to Environmental & Social Causes. larry@dogoodinvesting.net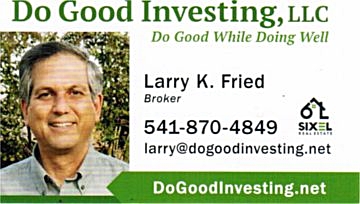 REALTOR - Heidi Zola, Broker/Realtor, 541-337-4260
A realtor with emphasis on a conscientious lifestyle for a better future. Hybrid Real Estate, HeidiZola@Gmail.com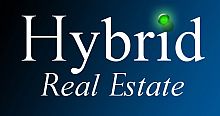 RESTAURANT- Govinda's Vegetarian Buffet, 541-461-0093
All-You-Care-To-Eat Buffet, 90% vegan, fantastic salad bar plus hot foods and homemade bread.
1030 River Road, Eugene

SPEAKERS - Dale Lugenbehl & Sandy Aldridge - 541-942-0583
Available for group presentations on Voluntary Simplicity, the Environmental Impact of Food Choices, Speciesism, or Engaged Buddhism. E-mail at lugenbehld@lanecc.edu or aldridgesandy@gmail.com
TUTOR - Math/Science- Robert Jacobucci - sun77rise@gmail.com
Retired physicist willing to tutor middle school and high school students. Specializing in math, science, and web design. My house or yours. Flexible hours, low rates. Eugene/Springfield area.
VEGAN FOOD - Cornbread Cafe - Vegan Comfort Food
Southern Fried Tofu, Mashed Taters 'n Gravy, Phish 'n Chips, Mess o' Greens, BBQ Ribz, Cornbread, Mac unCheese, Sandwiches, The Kidd-O-Meal, Hot Chocolate w/Marshmallows, and more, more, more!
All vegan!
7th & Polk, Eugene, OR
541-505-9175

http://cornbreadcafe.com/
Cornbread Cafe on Facebook
VEGAN FOOD - Viva! Vegetarian Grill - Dave Wagenheim -
541-606-3227
Dave's menu includes local products from Tofurky and Surata, organic coffee, juice and tea. He continues to work festivals during the Spring and Summer around the Northwest. Viva! Vegetarian Grill food cart is located in downtown Eugene in the church-owned parking lot at 12th & Willamette and inside the Eugene Y at 2055 Patterson. Viva! Vegetarian Grill delivers food by bike within a 12 block radius from their downtown cart. You can find a delivery menu at www.vivavegetarian.com.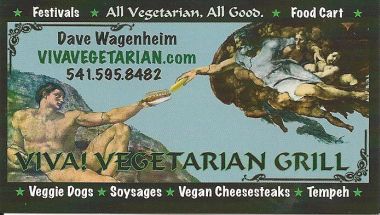 VIDEO - Third Eye Video Productions - 541-434-0286
We turn your vision into television. Broadcast production services for Oregon's non-profit organizations and academic community. www.efn.org/~matt e-mail: thirdeye@efn.org
WRITING - Say It Right - Angela Egremont, Owner - 541-343-0917
Writing, editing and proofreading services. Includes brochures, business/personal profiles, press releases, resumes, correspondence, and academic editing (term papers, masters theses). Angela has background and experience in business and print journalism. "Eugene" rates. Call for info. No obligation. THINK GLOBALLY. ACT LOCALLY.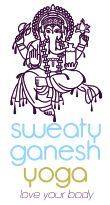 YOGA - Sweaty Ganesh Yoga - Jess Eldridge, Owner/Director
820 Charnelton St., Eugene, OR

Sweaty Ganesh Yoga offers hatha yoga classes for people of all ages and abilities. We specialize in meeting students where they are while helping them to cultivate awareness and stillness in both body and mind. Whether you are seeking a great workout, stress relief, injury prevention/recovery, or community, we can help. For more information, including our class schedule, visit our website at www.sweatyganeshyoga.com
If you are veg*n and would like your business listed here, contact EVEN at eugvegedunet@comcast.net.